Chef Melissa King shares the ingredients and tips to enjoy traditional Chinese hot pot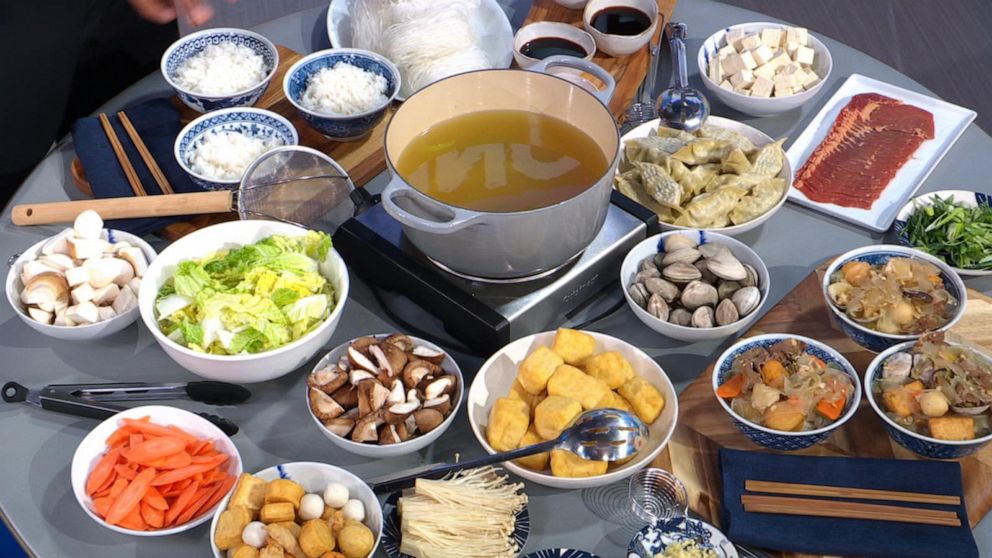 The Top Chef All-Stars winner shared her memories with family over hot pot.
Traditional Chinese hot pot is the ultimate upgrade for soup season.
Chef Melissa King joined "Good Morning America" Thursday to share how she enjoys the broth based spread and tips to recreate a hot pot meal at home.
The "Top Chef: All-Stars" winner and judge of the upcoming season said hot pot is a great way to transform an average bowl of soup into a whole dining experience.
"It's like Asian fondue. It's such a comfort food and just reminds me of celebrating with family," King said. "Ever since I was young hot pot was a time where we brought family together at the dinner table having this big pot of hot delicious broth, centered around an array of beautiful ingredients. It was really something that brought us all together."
She she showed her own Cantonese version and suggested to be COVID safe to adapt and use individual burners with broth for each person.
"The nature of the meal is that the broth will be hot for some time so if you need more liquid just add water, the flavor will be plenty concentrated," she said.
Once the broth is hot, it's time to cook your ingredients. King suggests starting with hearty vegetables that take more time to cook.
"You'll need your favorite vegetables and proteins. I have a variety of mushrooms, cabbage, spinach and carrots," she said. "As for proteins, these cook really fast — like thinly sliced beef," which she said cook in about 20 seconds.
King said the thinly sliced beef can be found at any Asian supermarket, but if not you can put your meat in the freezer first to slice it extra thin.
She also said that it's important to "have a strong sauce bar" and shared her simple favorite that's full of flavor.
"I think everyone should have a roster of staple Asian sauces in the fridge. You can combine them in a number of ways to top all sorts of dishes," she said. "For hot pot I like to combine soy sauce, ponzu — a citrus-based sauce — chopped garlic and scallions.
To finish the dish, serve the cooked items from the hot pot over a bowl of steamed rice and top with your sauce.
The pandemic has "put a wrench" in many people's gatherings over food and King said "I used to host dinner parties several times a year — so it's been different."
But one silver lining, food fans can now cook with King from home through her virtual cooking class experiences.