10+ Butter Substitutes (Tried and tested!)
Looking for a butter replacement? These are the 10 best tried and tested butter substitutes that can be used in all your baking recipes, including a homemade recipe.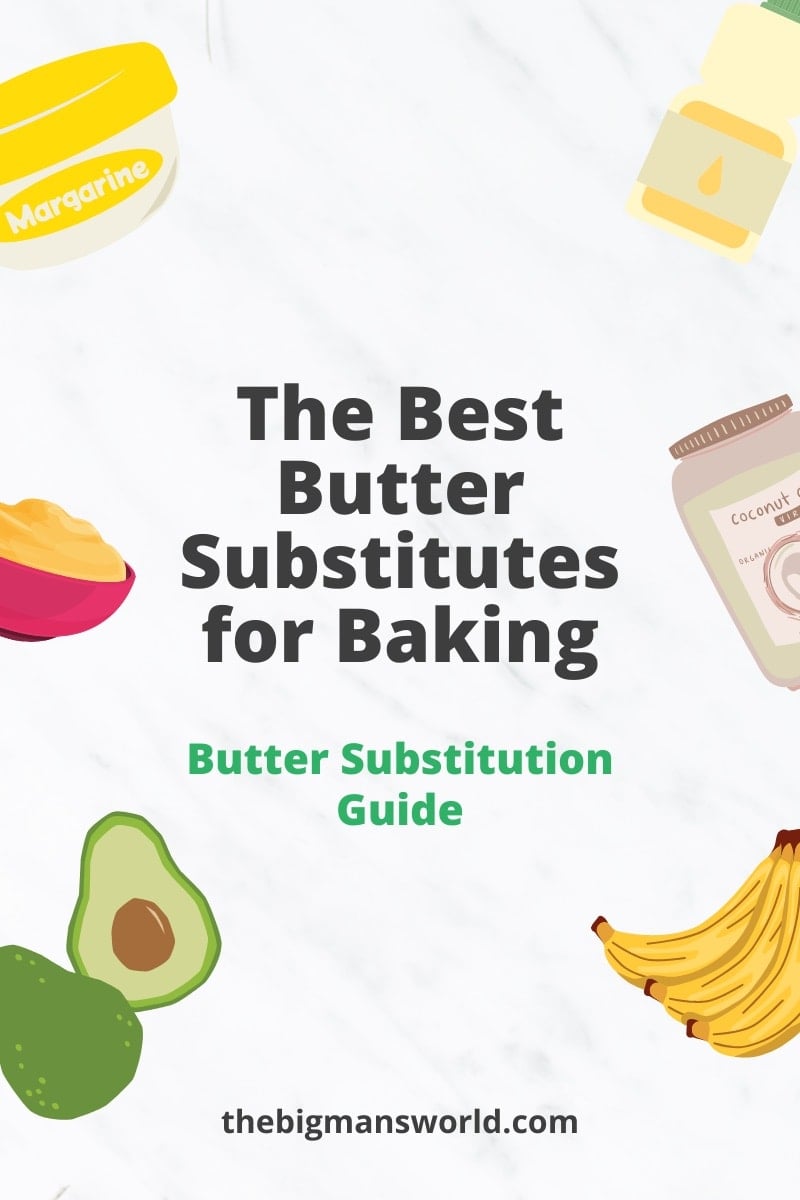 Butter is among the common recipe ingredients for cooking or baking. Adding butter to recipes enhances the texture and flavor. Even a small amount of butter can make baked goods, like donuts and cakes, taste incredible.
However, sometimes you run out of butter or can't use butter for various reasons. 
Choosing the best butter substitute depends on your recipe, whether for dietary reasons or just because you have none in the house. This article gives you a guideline for the best butter substitutes. 
The purpose of butter in baking
Butter acts as a leavening agent during baking. It makes the baked goods fluffy by introducing some air. The final baking product has a flaky and moist texture due to it. It also adds the desired "rich" and tasty flavor. 
You're more likely to have a flat, dry, and less tasty baking good without this ingredient. However, there are some fantastic options that can replace butter. 
Why You May Need to Replace Butter
There are multiple reasons why you'll need to substitute out the butter in your recipes. The main ones are as follows: 
Lactose Intolerance: Someone with lactose intolerance may only tolerate a small percentage of lactose in butter without adverse complications. However, it's recommended to omit any products with lactose. 
Health Reasons: Butter has a high saturated fat content. Because a large intake of these fats could lead to a higher risk of heart complications, some people may choose to avoid butter. Significant research also shows that the saturated fats in butter could raise one's

cholesterol level

compared to other dairy products.
Milk Allergy: Though small in amounts, butter also contains the allergenic component from milk called casein. If you have a milk allergy, reducing the amount of butter you consume is worthwhile. You'll have to avoid a butter intake for severe milk allergy cases completely.

 

Vegan diet: Those who follow a plant based and vegan diet do not consume dairy or products derived from animals. 
Which Butter Substitute Should I Use?

 
If you are making brownies, cakes, a loaf of banana bread, or some muffins, different substitutes work better than others. Here are the best tried and tested butter alternatives and what recipes they work best for. We've also included the amount you'll need to substitute one cup of butter. 
See below for a butter substitute recipe to use from the get go! 
1. Margarine
Margarine is a creamy spread from vegetable and nut oils. It's the most accurate substitute for butter when baking. Margarine is best for biscuits, cornbread, and cookies.
Replace 1 cup of butter with 1 cup of margarine in your recipe. 
2. Shortening
Although it lacks the rich butter flavor, a shortening product makes your baking good to become lighter and rise higher. This substitute works well for any baking good.  
During baking, replace 1 cup of butter with 1 cup of shortening substitute.
3. Coconut Oil
Like butter, coconut oil is in solid form when cool and melts to a liquid when warmed. This substitute is best for muffins, cakes, and cookies.
It's a good 1:1 substitute for butter in your recipe.
4. Other Oils
Using oil for your baked product makes it moist and tender. Besides coconut oil, you can use other oils such as vegetable oil or canola oil. Olive oil works in some baked goods but can have a subtle flavor to it.
You can replace 1 cup of butter with ¾ cup any non-coconut oil. 
5. Pumpkin Puree
A pumpkin puree substitute is almost perfect for any recipe you want to prepare, especially quick breads like low carb banana bread, pumpkin bread, and even cinnamon bread. 
Replace every cup of butter with ¾ cup of pumpkin puree. 
6. Bananas
You can substitute 1 cup of mashed bananas for every 1 cup of butter. Although this substitute can make your baked good denser, it's still a good additive. This recipe is best for cakes, cookies, and bread.
Replace every cup of butter with 3/4 cup of mashed bananas (approximately 2 bananas). 
7. Avocado
An avocado substitute is great because of its high fiber and vitamin content. It's the best alternative for spreading on toast instead of butter and also works well for certain desserts, like brownies. 
Substitute one cup of butter with one cup of pureed avocado. 
8. Yogurt
Naturally thick and creamy, yogurt works very well to replace butter. Either Greek or plain yogurt works, but Greek is far superior. It's a great substitute to use in mashed potatoes, cauliflower mashed potatoes, or desserts like banana bread.
For every 1 cup of butter, replace it with ½ cup Greek yogurt.
9. Applesauce
Unsweetened applesauce is a great alternative to butter in your recipes as it is super low in calories and completely fat free. It's best for healthy cakes, zucchini bread, and chocolate zucchini cake. 
.For every 1 cup of butter, replace with ½ cup applesauce.
10. Other Substitutions
Besides the butter substitutes mentioned above, you can also use the following as replacements.
Prune Puree. This substitute is best for brownies and cakes. Use ¾ cup puree for every 1 cup of butter.

 

A mixture of Applesauce with Buttermilk. This mixture keeps the original taste of butter in the baking good. It's best for most recipes except pie crust.

 

Mayonnaise. Mayo is a mixture of oil and egg yolks. It adds moisture and richness to the baking good.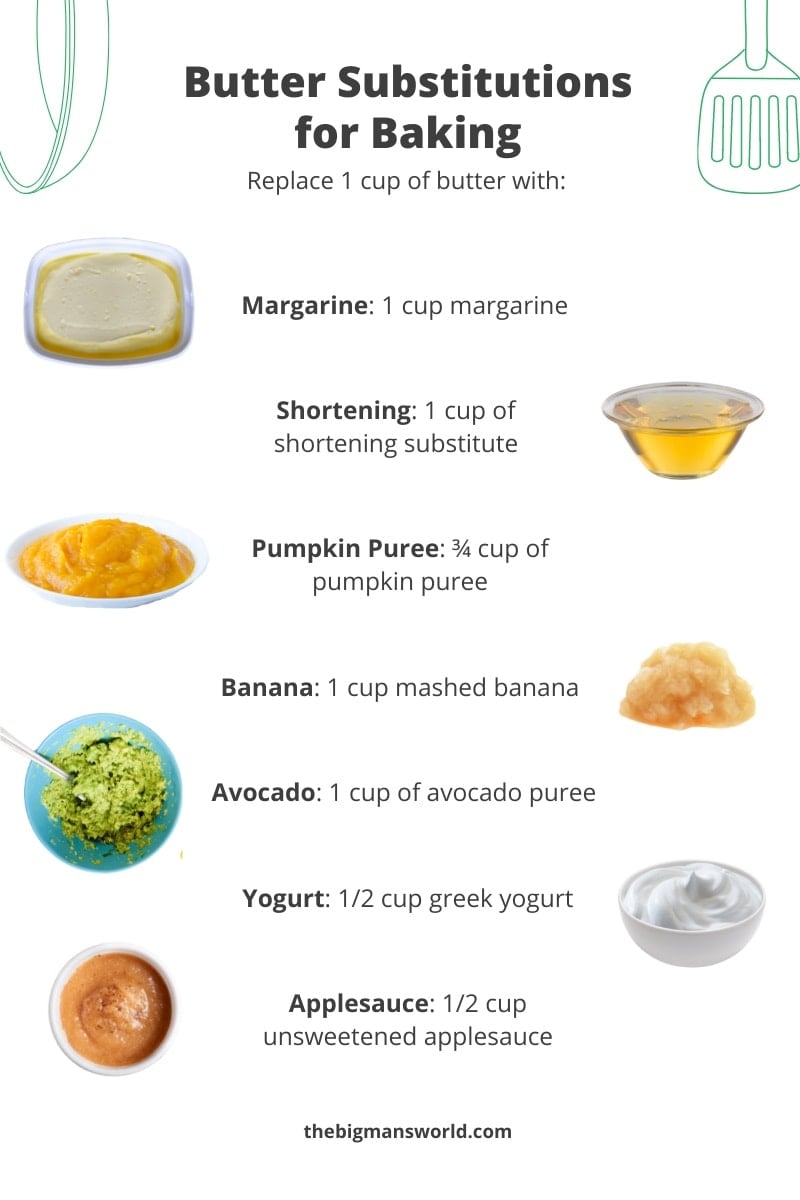 What is a substitute for one stick of butter? 
One stick of butter is 8 tablespoons. For a 1:1 substitute, you'll need 8 tablespoons as well.
What is the healthiest butter replacement?
Picking the healthiest butter substitute depends on how you want to use it. For a lower calorie option, unsweetened applesauce and pumpkin puree are best.
Frequently Asked Questions
What can I use instead of butter for turkey?
You can use olive oil instead of butter. Olive oil is the best alternative since it won't affect the flavor of your product.
What tastes similar to butter?
To keep the original butter taste in your recipe for desserts or baked goods, use margaine, oil, or unsweetened applesauce.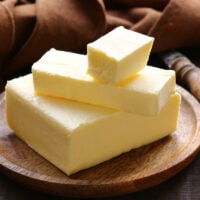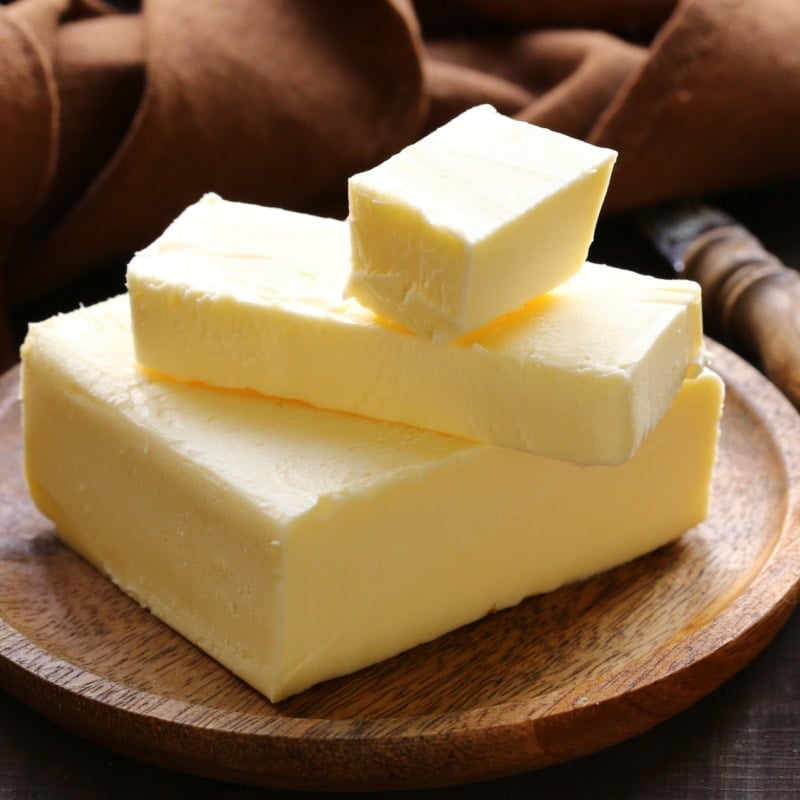 1

cup

plant based heavy cream

* Dairy free double cream

1/8

teaspoon

salt
Add the dairy free cream to a food processor and pulse for 8-9 minutes, or until you see some separation.

Strain off the excess liquid and whisk in the salt.

Transfer the mixture into container or bowl, cover, and refrigerate until ready to use.
TO STORE: Leftover butter substitute should be stored in the refrigerator, covered, for up to two months. 
Serving: 1serving | Calories: 100kcal | Carbohydrates: 1g | Protein: 1g | Fat: 10g | Sodium: 89mg | Potassium: 57mg | Vitamin A: 875IU | Vitamin C: 1mg | Calcium: 39mg | Iron: 1mg | NET CARBS: 1g